Mobile robotics for good and parcel processing
Soly™ is the SOLYSTIC' solution based on a fleet of mobile robots managed in real time by an IT System which supervises all movements and permanently locates objects. Combined with trolleys, robots transport parcels individually. Objects are placed on trays and their images are acquired to allow an automatic recognition system to provide the information necessary for their handling.


The benefits of the Soly™ solution
No fixed infrastructure
Flexible and scalable
The preparation area can be shared with other activities according to the time of day
Easy to adjust the amount of robots used according to high and low peaks in the workload
Less musculoskeletal disorders among staff and reduced staff turnover.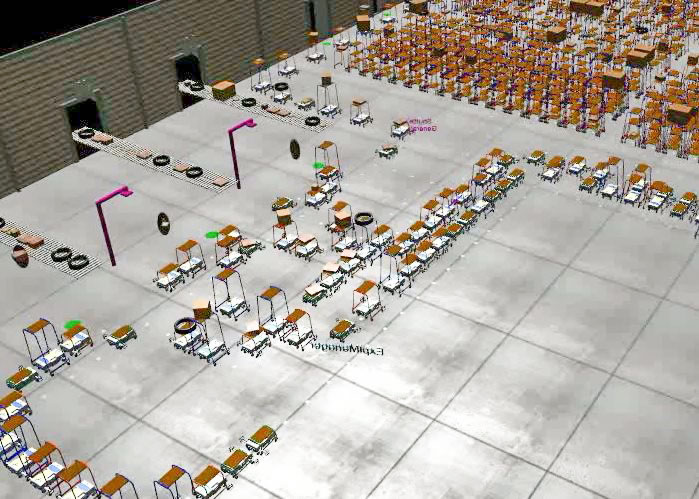 Application cases
SOLYSTIC has already demonstrated the adaptability of its Soly™ mobile robots through application cases:
Soly™ Sequencer: the store delivery for retailers and the delivery preparation which discharge drivers of a tiring and time-consuming operation. They can be more efficiently to their delivery tour,
Soly™ Sort: the parcel sorting in bags, cartons and / or containers whose management is automated in the distribution centers,
Soly™ Move: the handling of bags or irregular parcels in logistics operators' hubs,
Soly™ Kart: the moving of karts/rolling cages.
References
France 2016: round preparation application.
Asia 2017: test for sorting in bags, 11 robotic shuttles, 40 containers organized over less than 90 m².
United States 2017: optimization of the preparation of the parcels of a distribution leader for dispatch, before handing the parcels over to delivery operators.
United States 2018: improved stock management thanks to the automated replenishment of the distribution centers'serving stores.
France 2018: sorting of large parcels at Beaune on a DPD site.
Italy 2018: small parcel sorting.